Shopping Basket
Your Basket is Empty
There was an error with PayPal
Click here to try again
Thank you for your business!
You should receive an order confirmation from Paypal shortly.
Exit Shopping Basket
Bridging over the borders
Musics my Empire, Writings my Soul
Billy Monger F4 Racing Accident.
I've been following this sad story unfold since the accident of Billy Monger at Donnington, which I happened to be watching at the time. My thoughts are with poor Billy and his family, who had his heart set on winning the F4 championship this year. Not only is his career over in motor racing as a fully able bodied driver, but his whole life will change from the effects of this accident and losing his legs. But lets be thankful he survived such a horrific accident.
Motor racing, as well as many other sport have their own dangers, and as much as the participants are aware, it is their passion and for most, their career or future careers.
Billy Monger and his family have sacrificed so much over the years, to get him where he is today as a F4 Racing Driver.
I am sure questions will be asked of the race stewards and an investigation will take place. Questions such as, how long had the car been stationary on the track (on the racing line may I add)?
Should the race have been red flagged the moment the car had stopped?
There are marshalls all around the track, especially at high risk areas and corners. So should a marshall have been waving at least a yellow flag at the time?
A car that is racing at high speed does not suddenly come to a complete stop, so this car, given the speed it would have been doing, would have been slowing down for some time before it came to a stop. So how quick were or how quickly could the marshalls and race stewards reacted?.
As you can see from the footage, the driver in-front had a clear track ahead, so was able to see the stranded car in-time to take avoided action. Unfortunate for Billy, he was behind this car, slip streaming at speed, preparing for an overtake, unable to see past the car.
It has got to be so heart-breaking for the family. And like they said, one of their worst nightmare scenarios.
And lets not start moaning and complaining about how much an individual should donate to the fund. As unless we know the individual personally, we don't know how much support they are offering.
Lewis Hamilton for one is very passionate about his racing and as a former young race driver himself, I am sure he will contribute in many ways and show his support. Just because a person is rich, does not make them the devil or inconsiderate.
Once again, sincere thoughts to Billy and his family, as they face the toughest race of their lives, on the road to recovery and rehabilitation.
Blessings.
Sorry but I think so many people give Lewis Hamilton a hard time. He's a triple F1 World Champion, continuing to beat on track records. Not to mention all his success from his karting days. But many want to pick on him and put him down for his PERSONAL lifestyle. If he was losing races or not winning championships, then maybe all the haters and critics would have a point.
And then you wonder why he gets a little annoyed. It's like you'd (haters/critics) all want blood from a stone. So much negativity you throw at Lewis Hamilton, who has brought so many positive attributes and results to the
sport of F1.
Lewis Hamilton is showing and proving you can find the right balance between the off track lifestyle he leads and the committment and fitness required to race in F1 at the level he does.
How many people out there could do that. He finds the time to do it all and DELIVER.
The only reliability that has hampered his racing, especially last year, has been the reliability of his car.
So let him do his thing and give him the credit he deserves. Many of you probably only followed him since he hit F1. Well he's been going strong in racing longer than many from a very young age. But no doubt, the moment he stops winning races and championships, you'll all be blaming his lifestyle. Not the fact that he's getting older and it's only a natural progression in life that he will slow down etc. It will have nothing to do with his lifestyle.
Give Lewis Hamilton a break and show him some respect and the credit he deserves as a triple F1 World Chamption.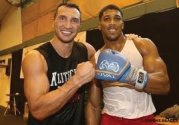 Anthony Joshua vs Wladimir Klitschko

Some would say the money generated and earn't by top level sports people is crazy. And yes, I would agree. But so is the amount earned by individuals in so many other business sectors. So lets not forget boxing is a business as well as a career.
That aside, I do believe Anthony Joshua has raw talent. I also admire him for his respect of character and how he presents himself.
In regards to the fight betweeen Anthony Joshua and Wladimir Klitschko, I also believe AJ will come out on top and win that boxing battle. Although he has not boxed as long as Wladimir or got as many years experience, it is the years (age) of Wladimir that may now work against him, especially coming u against a talented young boxer such as Anthony Joshua.
The fight between Wladimir and Tyson Fury, I have to say was quite boring, and to me it wasn't a boxing match. Then I look at the heavyweight match between Dillian Whyte and Dereck Chisora, this was a gruelling fight, but again, neither are in the same league or on the same level as AJ I believe.
AJ boxes, where other boxers fight, that's the difference. Also you can look at his physique as a heavyweight, compared to the likes of Dillian Whyte, Dereck Chisora and even Wladimir Klitschko (in his present form). Wladimir has got a lot more work to do, to get into shape to be ready for this kind of fight. But you know AJ, he won't be taking anything for granted, but he'll also know he has the better hand in more areas than one, for when he faces Wladimir.
There's about 12 or 13 years difference between them. Now this wouldn't matter so much if they were both younger, but given the fact Wladimir is now over 40, then yes, this is a disadvantage to Wladimir and an advantage to Anthony Joshua.
Boxing is a sport, a business, a career platform as well as an entertainment show. So before too many go on about how much money top flight sports people earn, remember it is us who pays their wages, for the joy of our entertainment. It's not even the sponsors, as it is us who also fund and pay into whatever businesses these sponsors run. We're the true Chairmen and Chairwomen of sport, we're the Executives, uhmmmmm so maybe one day they'll recognise this and give us a free seat/viewing, for the V.I.P's we are. :) Smile.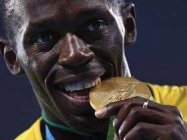 Borussia Dortmund CEO Hans-Joachim Watzke has confirmed that nine-time Olympic gold medallist Usain Bolt will train with the Bundesliga club.
The chief executive told Kicker magazine on Sunday that "it was no joke" and "not a marketing move".
Dortmund and Bolt are both sponsored by the same Germany-based sports goods company Puma, whose president contacted Dortmund to say that Bolt had asked about training with the team.
"We decided this some time ago," Watzke said. "Puma CEO Bjorn Gulden, who is member of our board, has told us that Usain is highly interested in practising with us.
"For us that's no problem. Our coach Thomas Tuchel likes the idea as well. Of course he won't visit us in an important week with Champions League matches but maybe in the pre-season. We are delighted and take this as an honour.'
Asked if Bolt could have a future in Dortmund, Watzke replied: "We don't even need to talk about it."
Bolt's love of football is well documented and the Jamaican is known to be an avid Manchester United fan.
The sprinter, who claimed three gold medals in Rio at the Summer Olympics, has previously outlined his desire to play for the Premier League side.
"For me, if I could get to play for Manchester United, that would be like a dream come true," he said. "Yes, that would be epic."
Author, Samuel Lovett (The Independent).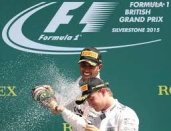 Lewis Hamilton and Silverstone (British Grand Prix) 2015




As a fan of Lewis Hamilton and his team, I must say that for me, this was the best race of the season, so far. Seeing the Williams duo of Bottas and Massa get a great start and ahead of the Mercedes duo of Hamilton and Rosberg, it brought the excitement and thrill of racing back to F1, as you knew it was going to be a thrilling race from then onwards.




I take my hat of to Bottas, Massa and the Williams team, as they drove a great race, keeping both the Mercedes duo of Hamilton and Rosberg at bay for some time.

Lewis Hamilton nearly made a mistake, which could've proved fatal to the outcome of the race, when he tried to pass the Williams just after the safety car came in.

Talking of the safety car, once again it was bad news for Fernando Alonso and Jenson Button in their respective McLaren cars. The luck, if you can call it luck, just isn't with them at all. It's amazing, almost frightening to see just how quick a Formula One team can drop off the pace. You only have to look at Red Bull to realise. And to think, it's mainly down to the power unit etc, that has caused so many problems for teams, since they were introduced along with the change in the engine designs.

But like any sport, and Formula One is no different, when changes come, you can bet even the top teams can get caught out.




What does get me though is that, when Red Bull were winning hand over foot, there wasn't as much talk going on then about how boring F1 is getting. But now that the Mercedes team along with Lewis Hamilton and Nico Rosberg have had a couple years at the top, everyone is screaming for change and spinning the "Boring Wheel". Come on people.




It was great to see Lewis Hamilton win at Silverstone, the British Grand Prix, infront of his home crowd, to which I believe were fully entertained by the performance of not only the Mercedes team, but the race as a whole.

Seeing Alonso collide with his team mate Button, was a double blow for World Champions. I hate to say it, but it's almost as if they're both in cars only suitable for retirement, as McLaren have truly lost the spark from their drive in Formula One. But with that said, I;m sure if you're a F1 driver, being in the car, any car in Formula One and racing, brings it's own rewards.




Once again, Congratulations to Lewis Hamilton for winning the British Grand Prix at Silverstone and extending his lead in this years Formula One Championship. Also hats off to the Mercedes team on a whole. Lets not forget, Nico Rosberg is also a great driver, and both Rosberg and Hamilton go way back, way way back.




All the best

Dr LK




0

/